Online Dating: What NOT To Do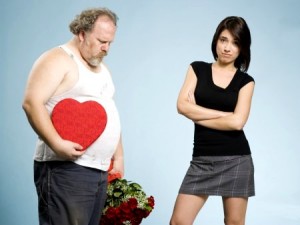 So I was cruising through OkCupid last night just reading profiles.
It's a new favorite pastime of mine.
And I stumbled across a woman living in Denver, Colorado, in her early 30s.
She said this:
Hello, and thank you for looking at my profile.  I consider myself as a kind, loving, considerate person with a good, loving heart.  I'm easy to get along with.  I may be shy at first until I get to know you, so please be patient.
I'm a widow of six years and a full figured woman.
I may not look like a model, although I'm sure there's a good, honest, loving gentleman with a beautiful heart somewhere out there that will fall in love with me for who I am on the inside, and will love me for how I look on the outside.
I may not be the prettiest or the sexiest around, nor do I have the perfect body.
I may not be the first choice, but I believe I can be a great choice.  I don't pretend to be someone else because I'm good at being me.  I may not be happy with some of the things I've done, but I'm happy with who I am today.  Take me as I am or watch me as I go.
She then writes:
What I'm doing with my life: I'm currently working in a retail store. Other than that…nothing.  
What she wrote is so depressing.
And she's not a bad looking person either.
But why sell yourself short?
In one way, she talks about how nice and sweet she is.  But she already starts comparing herself to other women. I'm not pretty, I'm not tall, I'm not this—that's not what you do!
Attraction is a worldwide thing.  I may not think this woman is pretty, but yet another guy will.
We all like what we like, so be beautiful inside and out. Because whoever you are, there's a man out there who's going to appreciate everything about you.
So don't write something depressing on your online profile.
Don't think you're not great.
Attraction is based on what you put out into the world. Confidence will bring a confident man.
Negativity is just going to bring some guy who is going to abuse her, probably emotionally and sexually because she's coming across as desperate and weak.
So be real and be honest, but be positive.