How To Prevent Cock Blocking Once and For All!
Hey guys, Shogo here and first off… happy 11/11/11!
Now it's been a while since I wrote anything about bars and clubs.  To be honest, it's been a while since I've been out to any clubs.  But I'm going to be out on the town this weekend with some friends, so I figured I'll put you guys in the right mindset with a question that comes from an email I got last week:
Hey Shogo,
Thanks so much for the coaching call yesterday, I got some great advice out of it and can't wait to put it to use.  One question.  Could you help me out with cock blocks in a bar or club, they can be very annoying and ignorant I find and I've been cockblocked now and again.  So what could ya say to the guy to stop?
J, Ireland
Hey J,
Here's how I feel about cock blocking.  I never get cock blocked.  It just doesn't happen to me. So what that means is that cock blocking has nothing to do with another guy being an asshole, swooping in and taking "your" woman.  It's got everything to do with YOU.  You can learn all the quick and witty comeback lines and banter you want to be prepared for a so-called cock block, but it's not going to stop it from happening to you.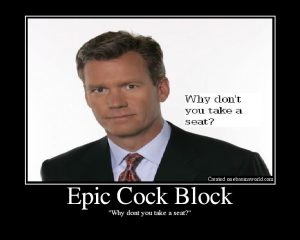 Because cock blocking only happens to certain types of guys.  And it happens to them over and over again.
Guys who are very hesitant about expressing themselves to a woman.  Guys who don't claim their space.  Guys who keep their distance and are afraid to get close out of fear that he's offending her or coming across as "giving her the wrong idea".
When you do that, other guys will notice it and see that there is no chemistry there.  Maybe you just look like friends.  Maybe a guy is an asshole, and sees an opportunity there to come in and take her away.  In any case, she's clear for the taking to any other swinging dick who walks by.
Cock blocking happens to guys who don't intrigue women.  If she is interested in you and the conversation you are having, she will stand there and listen to everything you have to say.  When she's not into you, her eyes will start darting across the room, hoping for her friend or some other more interesting guy to come rescue her.
When that starts happening, you're done. Nothing can save you.  She'll pray for someone else to come join the conversation.  She'll be totally open to starting a conversation and flirting with another guy who's around her.  And a guy who sees that will jump right in.  Sometimes she'll start a conversation with another guy.  I can't tell you how many times I've gone up to the bar to get a drink, and a girl standing there will turn and start talking to me while another guy was just in mid-conversation with her.
Then I'd look over her at the poor guy's disillusioned face and give him a little shrug.  Does that make me a cock-block?  Does that make me an asshole?  No.  It means she was bored to death with the other guy and wanted talk to me instead.  It means the other guy needed some coaching—not on how to deal with cock blocks, but on how to keep her intrigued.  Because I'm no better than the guy who just got shoved out of the picture.  But I'm much better in conversation.
Cock blocking happens to guys who don't claim their own space and walk over with confidence and start great conversations with women everywhere they go.  Cockblocking happens to guys who talk to one or two women a night, and then CLING onto those conversations like their lives depended on it.
Sound familiar, victim of cock blocking?
You sit in the corner of the bar, waiting for what to say to that one girl you've been looking at for the past 45 minutes, then you finally get up the guts to approach her and hope it really works out because this is your one shot for the night.
Instead you try and try and try with that one girl you finally approached, even when there's no chemistry.  And the more you try with a girl who's only lukewarm about you, the longer you stand there struggling, the more likely some guy with dimples and a great smile is going to wink at her and jump in to the rescue.
So you're still asking why you need to start conversations with women everywhere?  This is why.  Because when you start doing that, you will start having an abundance mindset.  You'll start approaching women everywhere.  When I go out, I talk to girls everywhere.  Quick, 30-second conversations.  If there's no chemistry, if she doesn't want to talk to me, I move on.  I don't stand around in a shitty conversation, struggling to make things happen, and wait to be cock blocked by some guy she likes better than me.
You think you've been cock blocked, but you really just cock blocked yourself.