10 Minute Daily Reality Check
With David Wygant
---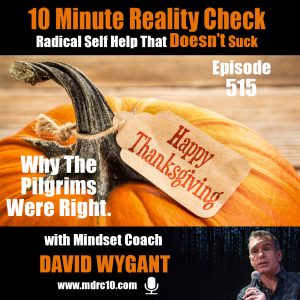 The night before Thanksgiving was always a huge night and one of my favorite memories was going with my friends in NY to watch the floats get blown up before being used the next day in the Macy's Thanksgiving Day parade. It's a big going out night to party and reconnect with friends.
I'm thinking about Black Friday and how many people choose to wake up super early to battle crowds because of marketing and programming when we should be sitting in and staying thankful after the day spent with family.
What does Thanksgiving mean to you? What are you thankful for this year?
It's not about the deals we're going to get on Black Friday.
It's a time to reflect and connect.
And you should take time to thank yourself for making it through another year.
Have a great Thanksgiving.