10 Minute Daily Reality Check
With David Wygant
---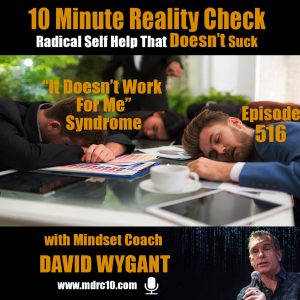 What is this, "it won't work for me" syndrome?
This is negative programming that people use to keep themselves in the equation thinking that everything they've tried to achieve won't work, so it keeps us from trying again. 
We have to get to the root of it and look at the loop that's been holding us back. We've bought all the programs to help us, we tried them, we gave up. 
We listen to the voices that tell us it won't work. We do that because we're pussies. We're afraid of failure. We'd rather stay the way we are than do something to try to be better and possibly fail so we have to try again. 
The failure is going to make us feel worse than feeling shitty about ourselves. 
We need to take ourselves out of that equation. We need to stop rationalizing the doubt. Those voices in our heads are just fucking with us.
Our desire needs to be louder than those voices of doubt. 
Start believing in the "it works for me" syndrome. 
Change your mindset. It's a conscious choice.