Google Eyes: The New Dating Tool For Men And Women
Man, what an amazing city Munich is! Whoever said the Germans are not friendly? Everyone has been super nice, the cafes here are wonderful and relaxing, and for the drinkers the beer gardens are great fun! Shogo and I have been exploring the city and meeting all sorts of new and interesting people everywhere we go. There's something I've always loved about European women-so many of them are just very graceful and really know how to enjoy the moment. For my European readers, I'm sure you can relate to what I'm saying. We've got some amazing new surprises in store for you guys, especially for my German readers!
So Shogo and I were in a beer garden today in Munich near the English Garden, and we sat and had a great conversation with a couple of German men and women we had just met. Beer gardens are so funny because it's such a bright open space so everybody can see everybody else, everybody is kind of on display and can check each other out. As you know, I teach you guys to talk about what is going on in the moment, to observe the things that are going on around you and will never run out of things to talk about.
So the six of us, we all started talking about how in beer gardens there are so many people and everyone can check each other out. I introduced them to a new English term, "googley eyes," and they couldn't stop saying the word.
"So what are googley eyes?" they asked me. Googley eyes is not getting on Google.com and punching in a search for the best optometrist in Munich, real googley eyes is when somebody looks at you and they have that certain look. That look that makes you kind of gaga, that makes you weak in the knees. That look that sends the message that they just like they want to eat you for lunch (and they're probably thinking that way too).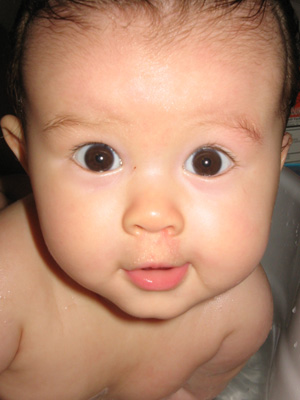 For men, when a woman shoots a set of googley eyes at us, all we think is, "Oh my God!" We immediately go right into our head, and then our thoughts shoot right to our groin. We read that sexuality, because real googley eyes is just pure sexual energy. It is uninhibited sexual energy, that look that drives us crazy. All of the sudden when you get shot that look, that person becomes the sexiest most erotic passionate person that you've seen in ages. Googley eyes, gotta love it.
I'll tell you, used to be my favorite thing when I was single when I would meet somebody and get those googley eyes from her, because I would just googley eye her right back. I know all of you know Google as the search engine term, and it's really time to set the search engine as yourself. Your own personal search engine is now going to find other people, because what do search engines do? They search for that perfect match right then and there for them to keep riding down the road and see what pops up.
So today's message applies to my female readers just as much as to my male readers. The next time you see somebody and you really want to get their attention, what do you do? You shoot them the hottest set of googley eyes and you give them a look that they will never forget. You be completely uninhibited with your energy, make them feel you, you make them notice you, and you get them so intrigued that you make them want to get to know you more.
So that's what the real "google" is all about. Well, I that was a pretty good analogy at least. What do you guys think about that? Googley eyes…