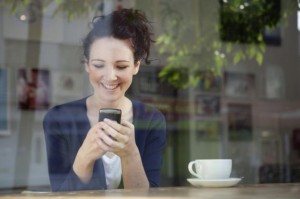 I get this all the time:
David, I'm still in love with my ex.

Even though she cheated on me…

Even though she treated me like shit…

Even though she didn't make me feel like a great man…

I can't seem to shake her.

Every time I see her, I don't know what to do, I just want her back so badly.
Are you bleeping kidding me?
That's pathetic.
But I get that e-mail over and over and over again from a lot of you. Texting her back? Really, wow that's great.  I remember when I wanted an ex back a long-long time ago. (We're going back to the high school years in the early 80s.)  I remember I actually had to drive to her house, ring the doorbell and tell her how much I loved her.
It would have been great if I could have texted her all that. It would have saved me money, gas, and time.
It's the most ridiculous thing in the entire world when people ask me what they can do text their ex back.  I mean that's like the magic pill of all shortcuts.  Why bother talking to her, seeing whether or not she's mentally stable now, or whether she will treat you like the man you deserve to be treated with, when you can just text her back.
People are always looking for the magic pill. But in this situation–the magic text.
Okay, so how about this:
How about this, okay, write this down everybody, right now.
Hey ex. Listen, you basically castrated me during the relationship. You treated me like shit, but for some reason or another, I still want you… 🙂
::Got to throw the emotions in there::
Then add this to the text:
My social life really stinks without you and I would much rather have a dysfunctionally bad relationship with you instead of being alone and working on my social skills.
Oh, it's getting really good. Now close it with this:
Will you pleeeeeeeease take me back… 🙂 
I would personally call, but I like this new modern technology, it's the easiest way to hide away from being real with one another.
Are you fucking kidding me?
Here's the deal:
You know why they call an ex the "ex"?
Because you no longer have to live that mistake over and over again.
End it.
You do not text exes at all. Go out and learn the social skills that you need. Find a woman that deserves you and date her. After all that, if you still think that you and your ex are a perfect fit, text her this:
Hey, I'd like to really talk to you. i've got something I would like to share with you…
And that's it.
Then sit down face-to-face and see whether or not the two of you can be a couple–a good functioning couple.
. . .
So what do you think?
What's the best way to get an ex back?