Hour-long Orgasms and the Friday Q & A!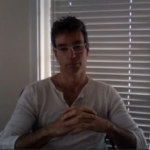 Obi is still in Sacramento today…
…so we have some slightly ghetto A/V for this Friday Q&A. 🙂
But the wisdom is still pristine!
Today, we talk about hour-long orgasms and the difference between a James Bond smile and a George Clooney smile.
Watch and learn, my friends:
Do any of you have some theme music for us? You get some free stuff.
Also, we're taking confessions for our weekly Friday contest. You get a free 10-minute nutrition and fitness session with Obi.
PSS. Who else wants hour-long orgasms?!!