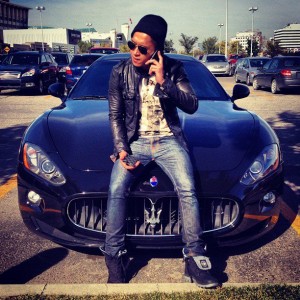 Got an e-mail from somebody today, which kind of made my stomach turn because it reminded me a lot about how I used to be, and I realized that that part of my life was such a waste of time.
The e-mail was this:
Hey David,

I did not want to hit on this woman.

My friend noticed her checking me out, so he glanced at me, raised his shoulders up in the air. I looked at him silently and said to him, "Are you kidding me, I don't like her."

He just looked at me again and said, "Come on man, show me how it's done. Do it, man; hit on her. I want to watch."

So keep in mind this woman was a lot chunkier than what I liked. Not really my type, and I really don't like to approach at bars. But of course being a guy and having some pride, I just needed to do it for my friend.

I walked over and said, "Hi, I'm Ralph. The woman said, "Hi, I'm Lucy." I then said "You know, you look like a gin and tonic kind of girl."

She said, "No" and then walked away.
. . .
Wow. I'm sure your friend learned a lot. What a creative way to hit on a woman. What a fantastic opener.
Did you think about that for a long time? Did you read about that on the Internet or did you become the Alcohol Whisperer?
I used to do that all the time. I used to always hit on women to prove to my friends that I was cool; I loved the validation. The feeling of going back to the male pack with the number—getting the high-fives, the bro hug, or whatever it might be.
Such great validation.
But you know what I realized? A lot of the women I hit on, I would just do so just to get validated.
Men are funny. We're always about competing and outdoing one another—even in dating.
Nowadays, I don't care if I stay at home, jerk off over the sink. It certainly beats going out and hitting on women that I'm not attracted to just to prove to my friends that I can actually talk to a women.
Here's the deal, guys: Getting better at meeting women is for you, not for your friends. It doesn't matter how cool you look in your friends' eyes.
Hitting on women is not about validation; it's about connecting with them. It's about meeting a woman that you like. So don't waste your time hitting on ones you don't like. Hit on all the ones that you do like and challenge yourself a little more.