What Men Desire
Don't you wish you could understand men better? Wouldn't you like to know why men act the way they do? Are you tired of constantly attracting the wrong kind of men?
I'm about to end all your dating dramas and dilemmas forever. In "What Men Desire" I give you an intimate look inside the mind of man. I'll show you exactly how men think, why they go cold, and what they truly desire from a girlfriend.
It's time to end all your confusion so you no longer feel at the mercy of what happens in your dating life – no more agonizing about what men are doing or wondering about what they are thinking!
Connect With Him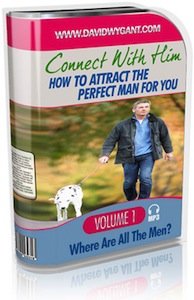 You've heard about all these good-looking and emotionally evolved men, happy to commit to YOU and looking for a long-term relationship but you can't find them anywhere!
That's UNTIL NOW!
In "Connect With Him" I'm going to show you exactly where to meet emotionally ready men, how to connect with them, and how to be such an amazing date they'll do anything to be YOUR man!
How To Tell A Man What You Want In Bed
Wouldn't you like to enjoy the most incredible sex of your life? Wouldn't you like a deeper, more passionate connection with your man than you ever thought possible? Wouldn't you love your man to feel like the best lover you've ever had?
Then step inside and discover, "How To Tell A Man What You Want In Bed".
My complete step-by-step system that shows you exactly how to tap into a man's inner sexual core, so he knows precisely how to give you the most amazing, loving, and orgasmic sex of your life.