Wanted: Guys Who Want A Foolproof Method To Get Any Woman Chasing Them..
It's Here – The Much Anticipated Guy's Guide to Texting from David Wygant!
Imagine, for a minute, sitting at your house on a Sunday afternoon. You've been staring at your phone for the last twenty minutes, wondering what you should do. You've been pacing back and forth, trying to work up the courage to take the next step. To do… something. Anything. And not ruin this great possibility you have in front of you.
"How can I keep my chances high with this amazing woman I met a few hours ago?" you think to yourself. Looking back you can't believe how well it went, and a slight smile appears on your face. You had the balls to approach her and talk to her.
She was absolutely stunning, the kind of woman that gets double takes everywhere she goes.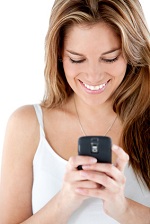 89% of all dates are confirmed via text message.
78% of women prefer a text with a phone call to be asked out.
92% of women get more sexually aroused before a date by men who know how to text.
The type of woman who you've always shied away from in the past. Well, the past is the past now, and things are different. You can remember the bits of doubt and "monkey chatter" start to creep in as you approached, but you kept walking towards her.
It was terrifying. It was exhilarating.
And after stumbling a bit you managed to open up a conversation with her. And it worked! Not only did you talk to her and make her laugh, (yes from something YOU said!) but you got her number, and left her with a smile as you walked away. Wow, you can't believe it, and you're still feeling the high from the encounter. You're head is buzzing from excitement and anticipation. But now what?
We've all been there. Where you ask yourself, "What do I do now so I don't blow this?"
"Should I send her a text? Should I call? When? And What do I say? Help!!"
Calm down. Take a breath. Relax. If this has described you at some point, don't worry, I've got just the thing for you. My step by step guide is going to give you everything you need so you'll never second guess yourself in this situation again. Ever. You'll be able to effortlessly get what you want (anything from a blowjob, to a relationship) without coming across as too needy, trying too hard, or just plain creepy.
So…
If you always seem to blow it on the phone, never really know what to say and how to say it, and always freeze on the spot…
…keep reading, because I've got something for you. It's my new texting product, "A Guys Guide to Texting", and I'm finally ready to share it with you. But before I tell you about all the great things you're going to be able to do with this product, I'm going to share a story with you…
I have a good friend of mine, who's name will be Greg for the purpose of this story. Greg's a great guy. Smart, has a good job, driven in life, and knows what he wants in women. I'm sure most of these qualities describe you. But for Greg,
Knowing what he wants in women and getting it are two different things
For whatever reason, all these great things about Greg disappear when he gets around women. He freezes up and gets nervous. He never quite feels sure of what to say and when to say it. He's always second guessing himself and wishes he knew how to apply the same confidence he has in everything else in his life to women. Wishes there was some way to finally turn what he wants with women into results. Well, that's where I come in.
I've been helping Greg out, and using many of the techniques that you can find in the different products I offer, Greg is now much more comfortable around women. Comfortable enough in his own skin and who he is, that he's now talking to women. After some hard work, Greg is to the point where he's connecting with women and getting their numbers.
You wouldn't believe how excited Greg has been over the last few weeks as he's realized how easy it is once you know what you're doing. He's called me a half-dozen times with all of these great stories about these women he's meeting, and it puts a smile on my face every time.
It's like he's rediscovered a fun part of life again, and he's a little kid filled with excitement.
Last week though, things were different. Greg called, and as soon as I picked up the phone I knew something had changed. "Greg, what's up? Where did all of your energy and fun go? Who took it away from you?"
"I know, I know, I've been kind of down in the dumps the past couple days" Greg replied. "Why? What happened?" I heard a deep sigh on the other end, and then Greg says "So I'm stuck. Completely stuck. Thanks to you, I can now approach women and talk to them and have a great time. And that's been great, don't get me wrong, it's completely changed my world."
"But I want more than just that initial encounter, and after I get their numbers, I'm completely lost. I have no idea what to do!"
Greg's frustration was obvious, and knowing his personality, I guessed he had been stewing over this for a few days. Greg's the type that likes to figure things out on his own, usually the hard way.
"Greg. Don't worry, that's what I'm here for. I've seen the strides you've made since I started helping you out a few weeks ago, and I've been impressed. We've been working on your confidence, inner-game, and ability to approach, and you've nailed it. This is part of the plan, and I see you're now ready for some more help."
"OK. Yeah, you're right, I do need more help. What now?" I could hear Greg's mind working on this new information, wondering what was next. "I'm going to give you a homework assignment. Remember that girl Stephanie that you met last weekend?"
Greg and I had gone out, and usually I take the lead so Greg can watch and learn, but this last weekend I let Greg out on his own. And he delivered. We met a fun group of girls, and Greg – the new, confident, fun Greg – had gotten the number of the hottest one of the bunch. He couldn't stop smiling afterwards…
"Of course, how could I forget?" Greg replied. I could see him smiling on the other end of the phone. "That's actually what brought this up. It's been a couple days and I don't know what to do."
"Simple. Send her this text."
"I have a confession…" "That's it." Silence on the other end. I could just see the blank stare that Greg must've had on his face. "But I don't have a confession," he said, almost pleadingly.
I smiled, "You're just trying to get her intrigued. Women love confessions, so when she texts you back, I want you to respond by saying your confession is you can't stop thinking about a moment that you both shared and laughed over. I don't know what that was for you, and it doesn't really matter. Just pick something where you both felt good, and once you have her thinking back to that moment and how she felt, she'll want to recreate it. With you."
A few seconds passed while Greg thought about it. "Oh, that's so simple. I know exactly what I'm going to text her."
"Greg, here's what I want you do. Take it from here, just do you what you think is right, but keep track of everything you send and say. At the end of the week we'll go over everything, and I'll show you what you did well, and what you could've done better."
"That's exactly the problem, I don't know what to do!" I could tell Greg was frustrated again. "And I don't want to blow it, I think I really like this girl."
"Greg, listen to me. You just met her, it's been two days. If it's meant to work out, it'll work out, but quit putting so much pressure on yourself. There are plenty of other great women out there, as you've found out in the past few weeks. So don't worry so much about just this one. And trust me, just do your thing, and come back to me in a week."
There was a few seconds of silence, as Greg thought about it. "Ok, you've never steered me wrong. I'll give it a shot."
"Perfect, we'll talk next week." I got off the phone, and wondered how he was going to do. I'll know soon enough, I thought…
So Greg, being the guy that he is and wanting to finally succeed with women, took his assignment seriously, and came back to me next weekend with his text conversations in hand. We started going over everything that he brought over, and I realized something.
There are many of you who are at this point, and are making the same mistakes that I saw Greg was making
And as much as I enjoy helping out my friends, I get more joy out of helping all of you, and giving you what you need to succeed with women.
Not only that, but texting is only one tool in the toolshed. It has its place, but shouldn't be the main form of communicating with women who you're serious about. It needs to be complimented, but what I call "Phone game." So once you know how and when to text, you'll also learn when to stop texting and pick up the phone. Most guys (Greg included) don't have any clue on when to pick up that telephone and they take the texting too far.
Once you understand how to really use both texts and the phone together, you'll be ready to blow any woman away
Greg and I spent the day walking through everything he did. It wasn't an easy process, and it took some work. But at the end of our session, Greg turned to me, and said "Thanks David.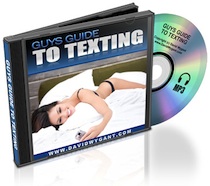 I know all of this seems easy to you, and after going through it, it seems pretty simple to me too. But you don't understand how frustrating it can feel to not know this, and not have this information available. I'm going to go and use this to improve, and I'll let you know how it goes."
So this is how my new product, "A Guy's Guide to Texting" was born. I realized what I had shown Greg could be turned into a system to help you out, and I'm excited to reveal it to the world.
For those of you wanting more specifics about what Greg did, and how he improved, I actually cover some of Greg's texts and what we talked about that weekend in the product.
"Rebecca Responded In Less Than Two Minutes For Our Second Date."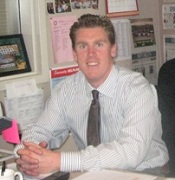 "Personally Guy's Guide To Texting on texting women I purchased has been a huge help so far. I was expecting a great product as one of your previous products I purchased, so when I read your Guy's Guide To Texting and began using your ideas and suggestions, well I am going out this afternoon with Rebecca for the third time in less than a week. In fact last night I read her a bedtime story as you mentioned, and she ABSOLUTELY LOVED IT!!!
Also I sent her a text mentioning "I have an idea…" and Rebecca responded in less than two minutes for our second date last Saturday night. Looking forward to my summer off from teaching and seeing where Rebecca and I end up. Thanks again David for the great ideas and suggestions."
Corey B.
Hemet, CA
Here's what else you'll be receiving in the Guy's Guide To Texting:
I'll walk you through the very first time you meet her and get her phone number, how to proceed and what to text. And I tell you some of the biggest mistakes men make in texting.
I also show you one of my favorite tricks on how to get into her phone immediately so she'll answer your phone call the very first time you call her.
Do you realize that you never ask her out for the very first time via text? I'm going to explain why, and I'm also going to go even deeper and explain why it shows her, what type of many you are and why you're the type of man she really desires.
Real life examples of how to text, and escalate the sexual tension with someone you recently met.
How to always get her thinking with your texts, and how to challenge her in a GOOD way.
Texting is one of the most intimate things you can do because you can start immediately from when you meet them. I'm going to show you how to tease her via text. I'm going to show you how to use different words to imply sex when you're texting her.
Talking about sex too early via text will only make you sound like a pervert and will make her feel that the only thing that you want is sex. So, there's a fine line between what you do and when you do it. It's very important to know when to text, and when to get sexual. I'll show you both.
I'm going to show you how to really close the deal, the right way. And show you the wrong way to close the deal when you're texting her for the very first time. It took me a long time to learn how to text and do it right, and you can learn from my mistakes.
You'll learn the times of the day to send specific texts to her. Do you know what to send to a woman when she's working in the middle of the day and you haven't had sex with her yet? I'll show you what to send so she'll want to have sex with you, later that day.
Great words to use when sexting and how to sext like a pro.
How to keep that sexual tension going AFTER you've slept with her, and how to INCREASE it from there…
We'll talk about the "good girl" method is and how using it can have her at your fingertips…
When and how to create visual imagery to get her to do what you want via text.
What "Emotional emotion" is and how you can use it your texts
How to help her get over her shyness and increase her comfortableness around you.
How to tell when a relationship is ready to be exclusive, and what that means when you're texting.
When to use nicknames in text and the importance of a nickname.
The ultimate "zinger" text to send her at the end of the night.
Plus much more!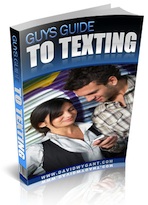 That's not all. I'm also going to include an eBook, the Guys Guide to Texting, containing actual texts I use and breaking them down. There's no better way to learn something that to study it in action, and I provide the texts that you can use like a workbook as I talk about them in the audio.
Plus, I even decided to include something that'll blow you away.
It's an example of everything I did, from the first text I sent after meeting her, to the sexting it eventually led to a couple nights later, and everything in between.
This is exclusive material you won't find anywhere, straight from my phone to you.
Here's how that weekend conversation played out:
I met her on Friday and got her number…
How I got her on a great date on Saturday…
How we were having phone sex by Sunday…
…and sleeping together on Monday. This is pure gold, and you won't find this stuff anywhere!
I'll let you see the texts that I used each and every day with this woman, give you background information so you can understand the story, and break down every text and why I sent them.
I'll explain everything on how to create momentum, how to keep the momentum going and how to really understand the power of texting using real life examples.
I'll break down these texts in an audio, so you're able to really fully understand some of the emotions that went into them, and how you can create these same emotions in women.
"She Almost Always Texts Back Straight Away And Even Texts Me When I Haven't Started The Interaction."
"I purchased your 'Guys Guide To Texting' which has been a real benefit to both my phone and text interactions. Keeping my texts flirty (when appropriate) and intriguing has really made a difference. She almost always texts back straight away and even texts me when I haven't started the interaction.
I took a girl out bowling and after went for a couple of soft drinks and the evening was really relaxed and fun, so much so that at the end of the date she said to me "next time lets not go bowling". I took this as "I'd like to go out with you again" so said I'd go to the park with her and have a picnic, which we did (good times).
Finally wanted to thank you for your effort. You've really helped me and clearly a lot of other people. Will be saving for some of your other products, have been needing to sort my lifestyle for a long time and this has been the kick up the backside I needed."
J. Avery
Sittingbourne, UK
As I mentioned earlier…
Texting Is Only One Piece of the Puzzle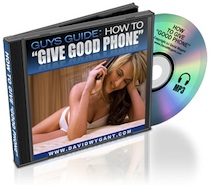 You need to follow it up with good "phoning."
In fact, "phone interaction" is probably more important than texting.
So I've also got a special bonus for you. Even though it's a "bonus" this is some of the most important and valuable material in this package, that will make sure you're ready to succeed after you get any woman's number…
Here's what I'll cover in this audio:
How To Give "Good Phone" Bonus Audio
How to turn her not willing to give her phone number into an email address that will leave her laughing and wanting more… and then how to turn that email into a phone number
Do you realize your voicemail can turn a woman off and a lot of the times is the reason why she never calls you again? I'll give you some of my favorite voicemail messages to leave so you come across as personable and playful.
Imagine leaving a voicemail that leaves her so intrigued she'll call you back before she calls back her mom…
What you say in your voicemail is important, but how you say it is equally as important. I'll show you how to master both.
If you don't understand how to communicate on the phone, she's not going to want to meet you in person. I'll make sure you know how to come across so women will always want to meet you.
The simple thing that ALL women are looking for in men, that you can show her YOU have on the phone.
We'll talk about how to ask her out on the phone. How to ask her out for that first date and why you want to be a "real man" and not give her any options.
I'm going to go through how to use the power of your voice on that call to get her so excited about her date with you.
I'll show you a secret for how to bring her back to that magic moment when you first got her number, and how creating these emotional triggers in a woman is a skill that all of you can learn to bring intimacy down the road.
How to turn the "how was your day" into something exciting and memorable for her.
Imagine being able to get a woman wet on the phone. Imagine being able to call a woman up and being able to talk to her about anything like an old friend. I'll show you how to have her looking forward to your every call..
… and I'll show you how I've gotten women to play with themselves on the phone, and confess their inner most secrets
Building this comfort and building this rapport is so important, and once you're able to do so, the chances of you sleeping with her a lot sooner are much better.
I'm going to show you everything I've ever done in my entire life, so you can give the best phone you've ever had.
I'll give you exercises you can do to improve your phone game, and specific things you should work on so when you get on the phone she's always excited to hear you
This is some great material that you don't want to be without…
But, at this point, I know you're probably wondering what happened with Greg and Stephanie, and whether they still talk. Turns out, it wasn't meant to be, and it didn't work out between them. But don't feel sorry for Greg, because…
Armed with all of this great new information about texting and phone interactions, two weeks later, Greg had TWO different women he was talking to
And after having his fun, one of them is now his girlfriend 3 months later. I actually got another call from Greg last week, who wanted to thank me for helping him out and showing him the ropes when it came to texting and phone game. He said I had changed his life. He even asked his girlfriend what it was that led her to be attracted to him. Here's what she said:
"I could tell you were a good guy, otherwise I wouldn't have given you my number. But the best part, the part that really made me take notice of you, was whenever I got a text from you, I'd end up with a smile on my face. And I always wanted more. And when we started talking on the phone, I felt so comfortable. You kept me on my toes and intrigued, but it just felt so natural, and I loved how confident you were with everything."
Greg, actually started laughing at this point in the conversation, and after we both chuckled for a minute, I asked him what was so funny. "Well," he said, "I remember sitting over at your place 4 months ago. And…"
"If you would have told me I'd have a girlfriend who told me one of the biggest things that attracted her to me was my confidence, I would've just laughed at you."
"But now it's true, and I have you to thank for it. So thanks again for everything."
There's no better feeling in the world than that, knowing that what I can give you, from my own extensive experience, can help YOU succeed with women. Which is why I'm so excited to share this product with you. A couple weeks from now it'll be you looking back and remembering this moment when you decided to invest in yourself, and how it changed your life. Sure it's a great product that will show you what you need to communicate with woman via text and phone. But it's also more than that. It's another tool you'll have later in life, that's going to increase your confidence…
"I Love The Part Where You Speak About Customizing Your Voicemail, Never Thought That Making A Difference"
"Just got done listening and reading through your Guys Guide To Texting! It's great, definitley what I needed, I'd call a girl after getting her number, leave a message and wonder why she's not calling me back. After listening to the program and speaking to women online and asking if they would rather get a phone call or a text after they give a guy her number they all said the same thing… send a text first.
Glad you made this and learned what I was doing wrong and how to correct it. I love the part where you speak about customizing your voice mail box, never would of thought of that making a difference. That was my favorite part of it 🙂 Have an Amazing weekend."
Kevin S.
Bristol, CT
So you can get the woman YOU choose, when you want, on your terms.
There's nothing better than knowing that.
Look, I'm going to be completely honest. This product isn't for you if you can't get a woman's number. Obviously, you need a woman's number to be able to text her. But If you aren't here yet – able to get a number from any woman – go and check out my Mens Mastery Series, it'll help you out more than this product will.
For everyone else, congratulations. For most of you it's not easy to get numbers from women you are interested in, it takes work. By you being here, reading this page right now, you're obviously motivated to get the tools you need to continue succeeding with women. And let's be honest. You know you need more work. Everyone needs more work on something. And because I want this to get in the hands of as many guys as need it, I'm going to give you a special offer right now.
What would it be worth to you to always feel completely sure of what you were doing when it came to texting? How about the follow up phone interactions? To have the utmost confidence that what you were texting and saying has been broken down to a science by years of experience, and would give you much better results than you have now? A couple hundred dollars to learn a skill that you'll take with you for the rest of your life seems reasonable…
Well, I'm going to do better than that. It's not going to cost a couple hundred dollars, or even a hundred dollars to get this life changing material. I'm going to give you the Guys Guide to Texting + Guys Guide to Texting eBook + How To Give "Good Phone" for only $77.
But wait, it get's better. Because I want to reward people who take action, right now, I'm going to drop that to $57. That's right, for the same price as an oil change you can instantly get access to this material that will teach you everything you need to know about texting and phoning, and increase your confidence in what you're doing with women. So don't wait, be a man of action, and grab you're copy at this ridiculous price of $57 now!
Guy's Guide to Texting
Here's the best part. I'm giving away so much great information that I know you'll find valuable, I'm also going to give you my Industry best guarantee to go along with everything:
MY 90-DAY "GET MORE DATES" GUARANTEE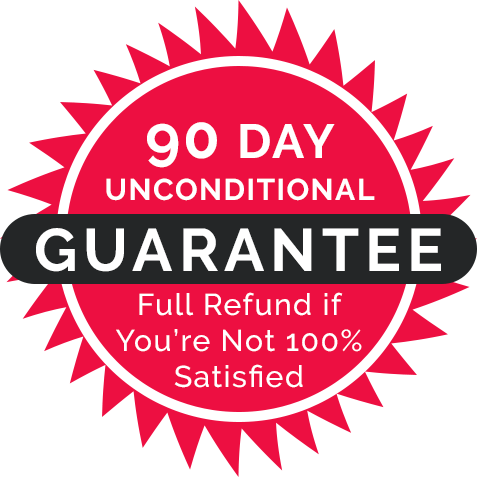 Take 90 Days — yep, 3 full months — to implement the strategies and techniques in this Program, and if after implementing them* you aren't getting MORE dates in 90 days than you got in the last year, I'll refund every red cent you paid for this product.
Yes, I do mean MORE dates in just 3 months than you've had in the entire year before that . . . and that's what I'm 100% confident you will experience once you utilize the techniques I teach in this program!
On top of that, you can keep all the BONUSES no matter what . . . as my "thank you" for trying this program.
This a WHOPPER of a Guarantee … but I'm really THAT confident in this Program!
*Because this is an "action-based" guarantee, any request for a refund must be substantiated by the ability to show us which technique(s) you implemented and describe how such technique(s) were unsuccessful when correctly applied. C'mon, wouldn't you if you were me?! It's only fair after all 🙂
Remember, you're getting all of this:
Guy's Guide to Texting Audio
Guy's Guide of Texting eBook, where I break down actual texts for you to learn from
Guys Guide – How To Give "Good Phone" Bonus Audio
But wait…. There's more!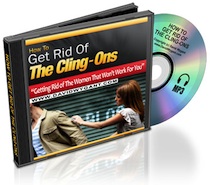 Those three alone are enough to improve most guy's texting skills, but I've got more. Greg's situation with Stephanie reminded me of another important lesson for all of you, how to eliminate the bad ones. Come to find out after the fact that it wouldn't have mattered what Greg sent to Stephanie, it wasn't going to work out. So I'm going to show you how to spot the types of women who will lead to nothing but trouble down the road, and how to weed them out up front. Act now because for a limited time, you'll also be getting:
Guy's Guide Bonus Audio – Get Rid of The Cling-Ons
How to spot text warning signs and red flags in women
Why you shouldn't waste your time with certain women, and how to know which women have those qualities
How you should cut your losses with women not worth your time so you don't come across as the bad guy, and how that will benefit you
This audio isn't only about spotting the bad ones, it also includes:
Why you shouldn't ask yourself "What did I do wrong?" and what to do in those situations
When to send the first text depends on where and how you met her, learn the rules so she knows your not just like every other guy
How to react and what to do if a girl you just met and texted for the first time doesn't respond
What you're doing right now early on in your texts, that you SHOULDN'T be doing and specific examples of what you should do instead
What to include in your texts to show that you're paying attention to her and make her want to respond every time
Why you should treat your life like it's a roller coaster and how that makes her want YOU
What "reapplying" means and why you should do it to keep women on the fringe around
What you can do in social situations to leave people (not just women) always wanting to hang out with YOU and wanting more, and how this will improve your life
There's MORE LIMITED SUPER BONUSES!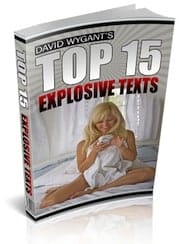 As you can see I'm including enough content about texting to make sure you've get every angle covered. But I'm not quite done yet. I've got more special bonuses, but only for the first 250 guys who act now. As if I haven't already given you enough, I'm going to also include:
In this super exclusive bonus you're going to get the top 15 texts that I use myself. I've been using them personally for years, and I know firsthand that they work with women. Not only that, but I'll explain why I like them and why they're so good…
I've got even more super exclusive bonuses lined up.
Guys Guide Bonus Webinar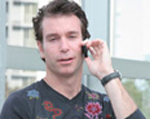 I held an exclusive webinar for the first 100 guys who invested in this product, where I walked them through step-by-step how to implement this product into their every day life.
That's right, after you go through all the great material, we all know, there's always questions that come up once you start applying this to your life. Well, this webinar answers those questions. Not only do I answer your most pressing questions, but I walk you through step-by-step how to implement this product into your every day life. This exclusive webinar is over 45 minutes long.
A 14-Day FREE Trial Of My "Advanced Dating Inner Circle" (Optional)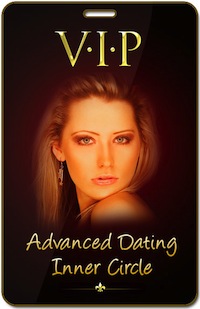 Become part of my exclusive "Advanced Dating Inner Circle" and take your dating and sex life to a whole new level.
Come into my private world and watch me meet and seduce some of the most beautiful women in the world. I'm a very private person, and I've NEVER let a camera follow me like this.
But at my last boot camp, one of the guys said something that made me stop and think…
…He said, "David, I've been saving up to come on this boot camp for years. If only I could have seen you in action like this years ago. My life would have been so much better!"
It made me realize paying thousands of dollars to do a boot camp with me isn't something everyone can do. I wanted to give you the chance to see me in action without having to save up for years. So I've opened up the doors to my private world to help you change your dating life FOREVER!
The camera follows me literally EVERYWHERE!
I reveal some of my most powerful and advanced attraction strategies (Normally reserved for private clients paying up to $10,000), to give you the edge over every guy who doesn't have access to this.
You'll see the camera follow me as I…
Stop women on the street and get their phone numbers
Flirt with hot waitresses in restaurants
Close beautiful women and get them to agree to a date
Start to attract women by talking to random strangers
Take a woman on a first date and start to seduce her
Go in for a first kiss
Create magnetic attraction in a woman I've only just met
Sexually escalate a woman. You'll see her getting visually aroused!
Turn women on just by talking to them
And a whole lot more!
This is footage of me you won't see ANYWHERE else.
I guarantee once you start using the techniques and strategies you see me putting into action, it'll transform your life beyond all recognition.
With this free bonus you will be receiving a 14 day free trial to my "Advanced Dating Inner Circle" where you will receive an exclusive members only video product a week which you can cancel at anytime through your account or our 24-Hour Help Desk. If you decide you want to continue as a "Advanced Dating Inner Circle" member, you will be billed $49.95 every 30 days and continue to receive a video product every week.
This bonus is completely optional and you'll be able to "accept" or "deny" it on the checkout page.
Think about it, for just $57 you're getting my Guy's Guide to Texting Audio and eBook, a jam packed How To Give "Good Phone" Bonus Audio, PLUS the Get Rid of the Cling-ons, AND for the first 250 guys, you will receive the bonuses above. Seriously, that's a no brainer.
Take action now, and click on the Add To Cart button below!

Guy's Guide to Texting