10 Minute Daily Reality Check
Join me 7 days a week as I blow the lid off everything you THINK you know about dating, relationships, society, and more.
Recently Featured Guests: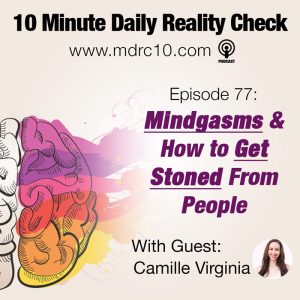 Here's something that gay men & women have down to a tee, which us humdrum heterosexuals just can't fucking get right: the full-on MINDGASM.
See, I love having a mindgasm. I love actually getting stoned off the people I'm with and the places I go to. It's just what makes you feel alive.
So today, my guest Camille and I are going to give you some of the best advice you'll hear this week: how to embrace the mindgasm and get high off everything, everywhere, every day.
Listen, subscribe & rate today's podcast in your podcatcher of choice, share us with anyone who could use a good mindgasm, and definitely be sure to go to https://masterofflinedating.com to learn more about Camille.