10 Minute Daily Reality Check
Join me 7 days a week as I blow the lid off everything you THINK you know about dating, relationships, society, and more.
Recently Featured Guests: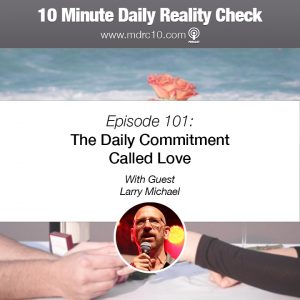 Love is… ___ (fill in the blank). Love is so many things, but above all, love is a commitment. And today, we have a very special episode with my great friend Larry Michael, and we're going to go deep in love.
We're going to talk about what love is, what it's not, how to fall in love, what's blocking you in love, and so, SO much more.
So give it a listen, subscribe to and rate this podcast in iTunes/Android Store, and be sure to go to http://thefouranswers.com/ to learn more about Larry Michael and get your free energetic romance report.