10 Minute Daily Reality Check
Join me 7 days a week as I blow the lid off everything you THINK you know about dating, relationships, society, and more.
Recently Featured Guests: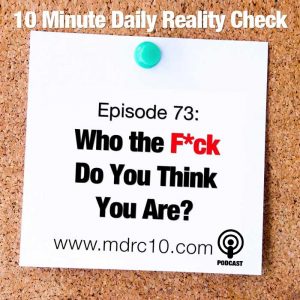 Let me ask you a question: who the F*CK do you think you are? So many people are walking around with this idea of their selves that's, well, not true.
So who are you really? Are you the great, amazing, evolved person you think you are? That's today's reality check, and that's what John and I are challenging you to really answer today.
Listen, subscribe & rate this podcast in your podcatcher of choice, share us with your friends, and be sure to check out John Keegan at https://theawakenedlifestyle.com/.