10 Minute Daily Reality Check
Join me 7 days a week as I blow the lid off everything you THINK you know about dating, relationships, society, and more.
Recently Featured Guests: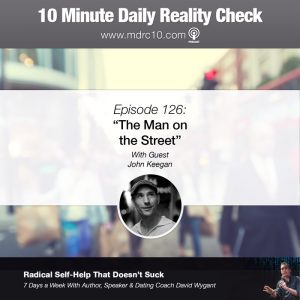 "The man on the street," "the cute blonde from whole foods…" if you have a cell phone, it's probably full of names like these. The names we give people. The things we identify them by.
Today's reality check is that habit of ours. My guest John Keegan and I are going to go over some of the names we've given people, why we do it, and what it says about us.
So join us today for some radical self-help that doesn't suck. Subscribe to and rate the podcast in your podcatcher of choice, and learn more about John at https://theawakenedlifestyle.com/