10 Minute Daily Reality Check
Join me 7 days a week as I blow the lid off everything you THINK you know about dating, relationships, society, and more.
Recently Featured Guests: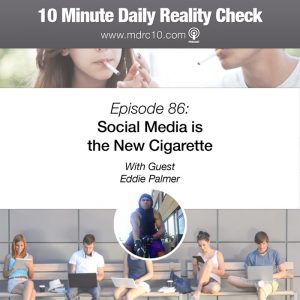 What's the first thing you do when you wake up? When you're stressed? When you have 5 minutes of free time?
Maybe you're a smoker and you smoke. But for 99% of everyone else, you're checking Facebook… because social media is the new cigarette.
Join us today as we reveal just how much you inhale the toxin called social media, download and rate this podcast, share it with your friends, and if you want to get in touch with my guest Eddie Palmer, reach out to him at eddiepalmer12@gmail.com.