10 Minute Daily Reality Check
Join me 7 days a week as I blow the lid off everything you THINK you know about dating, relationships, society, and more.
Recently Featured Guests: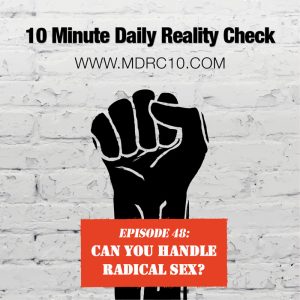 I've spoken about this in previous episodes – WAITING before you buy your ticket onto the bang bus. We've talked about waiting before sex, whether it's 30 days, 45 days or 100 hours.
It's a pretty radical view – in fact, so radical that it made my guest John Keegan ask me if I've joined an extreme religion.
And I have. It's called the "No Fucking & No Sucking for 30-45 Days" religion.
Well, John and I have some disagreements here, and we're going to talk about it and ask you to ask yourself – do you have what it takes? Can you handle radical sex?
Like, download & rate this episode, subscribe to 10 Minute Daily Reality Check in your podcatcher of choice, and be sure to check out John's website at https://theawakenedlifestyle.com/.