10 Minute Daily Reality Check
Join me 7 days a week as I blow the lid off everything you THINK you know about dating, relationships, society, and more.
Recently Featured Guests: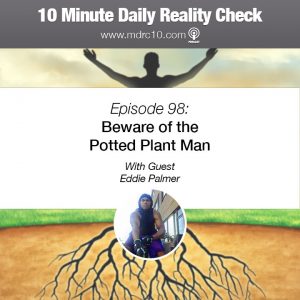 Men are like trees. Huh? What?
Yes, men are like trees. The stronger the man, the deeper his roots are. Strong, quality men need to have a solid foundation in life.
But the man you want to stay away from is the potted plant man. The man whose roots go about 6 inches deep.
In today's podcast I'm joined by my good friend and personal trainer Eddie Palmer, and we're going to go deep into who the potted plant man is and what to do if you're dating him. Listen, subscribe and rate this podcast on iTunes or your podcatcher of choice, and if you want to get in touch with Eddie you can shoot him an email at eddiepalmer12@gmail.com.