10 Minute Daily Reality Check
Join me 7 days a week as I blow the lid off everything you THINK you know about dating, relationships, society, and more.
Recently Featured Guests: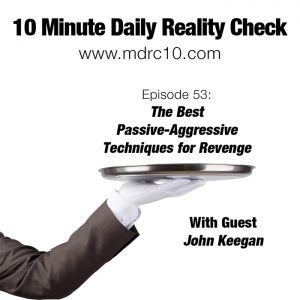 Oh, so many of you men and women are so vengeful! You lover didn't say the right thing, do the right thing or act the right way… so you have to take your revenge out on them passive-aggressively for the next month or so.
There are plenty of ways to do this, and today my guest John and I are going to go through some of our personal favorites. Listen along and see if you can recall doing any of these…
And be sure to rate and download us in your podcatcher of choice, and learn more about John at https://theawakenedlifestyle.com