10 Minute Daily Reality Check
Join me 7 days a week as I blow the lid off everything you THINK you know about dating, relationships, society, and more.
Recently Featured Guests: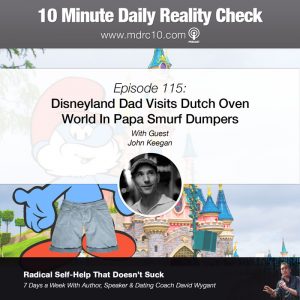 Happy birthday to me! It's my birthday today, and before I pick up my daughter and then hop on a few coaching calls (check out the "On Sale" page for some REALLY special deals on coaching), I'm in the studio with John Keegan…
…and today's topic is Disneyland Dad. Disneyland Dad who wears dumpers and goes to dutch oven world and looks like Papa Smurf. What is it with this guy?
Well, today we're going to poke a little fun at him, and maybe you if you're a Disneyland dad, while still delivering some really radical self-help that doesn't suck.
So join us, rate us, share us, come back tomorrow for more radical advice, and check out John Keegan at https://theawakenedlifestyle.com/.