10 Minute Daily Reality Check
Join me 7 days a week as I blow the lid off everything you THINK you know about dating, relationships, society, and more.
Recently Featured Guests: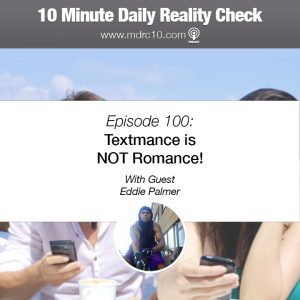 Episode 100! We're cruising through the 10 Minute Daily Reality Check, cruising through the month of June, and today we're going to talk about the biggest waste of your phone: texting.
See, a textmance is not a romance. You need face to face, or at least phone to phone contact in order to really experience a relationship.
Join us for this reality check, subscribe to and rate us on iTunes, SHARE it with the world, and if you'd like to get in touch with my guest Eddie Palmer, shoot him an email at eddiepalmer12@gmail.com.