10 Minute Daily Reality Check
With David Wygant
---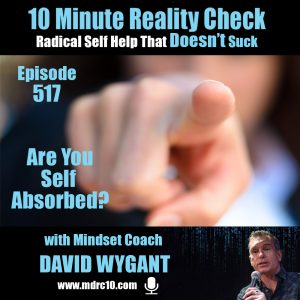 I want to launch a new app called "The Self Absorbed Meter".
I run into self absorbed people all day.
There's not enough etiquette.
Everyone is self absorbed not leaving room for others.
But when you turn it around on them by going around them, they get offended.
This is because we live in a world where people are rewarded for being self centered and self absorbed.
This illusion is really dangerous.
When we're constantly thinking "me me me", we miss out on connecting with other people.
We're rewarded for narcissistic behavior when people give us a "like" on our pictures and comments.
It takes a conscious effort to not be self absorbed.
So ask yourself- how many times a day do you do a self absorbed act?
Then ask yourself why.
We need to understand there are people on this planet who need to share the space with us.
Take responsibility for being nicer.