10 Minute Daily Reality Check
With David Wygant
---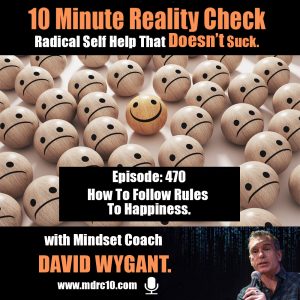 Productivity in life is taking a bad situation and turning it into a good situation.
Every successful person follows a certain set of rules.
Intuition makes us think we know better. Doing things our way means we usually get in our own way.
Are we going against a set of rules a successful person has set up because we're stubborn?
Successful people have figured it out for us by learning a whole new set of rules that are anti-intuitive.
When we follow those rules, we become successful.
Most things in life are simple. When we are battling obstacles unsuccessfully, it's usually because we are following our intuition and not following proven rules that work.
Set up distinct rules and follow them.
Ask people who are successful what rules they follow and then follow them.
Write them down and read them every day.
It will help you change your habits and stop giving into impulses.
Try it and document your success.