10 Minute Daily Reality Check
With David Wygant
---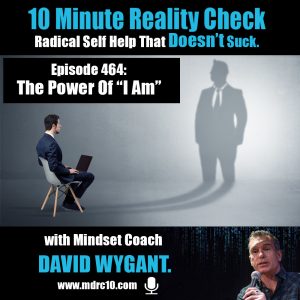 Today we're going to talk about choices.
Every choice you make and every word you speak when you wake up in the morning programs the exact type of day you're going to have.
If your first words are, "I'm so tired today"- you're literally telling yourself that you are going to be tired all day.
From the moment you wake up, you need to use words and phrases that get you jazzed for the day and your day will be much better.
When I first started on this journey, I used to wake up stimulated and excited. I called it my morning hard-on for the day ahead.
I would say, "I am so excited for the amazing day the universe is going to give me!" when I first woke up in the morning and it helped me gain that mindset.
If we wake up whining like babies, "Wah, I'm so tired!", that's the voice we're telling our subconscious minds and because of it, we'll be tired all day.
Listen to how exciting life is. We don't know when or where the exciting thing is going to happen, but if we're looking for it, if we're telling life to bring it on, we'll manifest what our day is to be. We'll be able to handle challenges. We'll be excited to learn something new.
"I am" is our willpower.
"I am an Un-Sugar-atarian" will help us not eat sugar. "I am a vegetarian" helps us not eat meat.
We have to stop giving our power to things. We have to stop allowing our impulses to control us.
We can stop ourselves from giving in. We can control ourselves and ignore our impulses.
"I am a lifestyle choice."
"I am dedicated."
"I am focused."
"I am somebody who has made a lifestyle choice."
We are capable of manifesting our willpower by programming our brains.