10 Minute Daily Reality Check
With David Wygant
---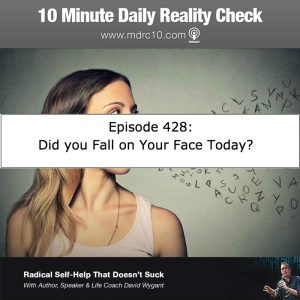 David has been teaching men and women how to overcome their bullshit for over 20 years. Your stories, blocks, excuses… they are all meaningless.
How cool would it be to be as successful at anything –
Don't expect greatness – without putting in the work. Explore what happens when you believe you're able to circumvent all of the hours, blood, sweat, tears and headaches. I'll give you the answer – you get nothing.
Without putting in the work…you will reap no rewards.
Learn how to overcome the fear, the fear of really living your life. To do so, will open doors all over the place.
Life is so much more than the day to day actions, that the mundane. Discover what happens when you look up from seeking shortcuts everywhere – and what will transpire when you open yourself up to a new way of being, doing and having.
What will you allow your human spirit to become – why be held down, back and made less than you're really capable of.