10 Minute Daily Reality Check
With David Wygant
---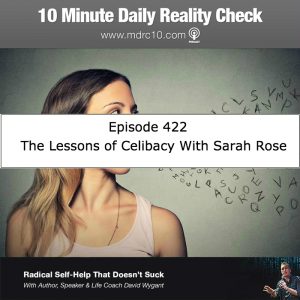 A whole new type of cleanse – celibacy. Discover what 90 days of celibacy will teach you about yourself, your partner and the life journey that we are all on. Uncover how celibacy empowers you, your partner, your sex life and impacts each other area of your life.
Can you imagine David – being celibate for 6-7 months? Listen and learn why he did it and the profound impact the journey of no sex had and continues to have on his life.
Ever considered sex as a drug? Think of the chemicals that are released into your system when you have sex, or an orgasm. Remember the last time you just laid there, in that state of bliss – yeah that can be addicting.
Learn how being mindful of your sexual power will impact each and every aspect of your life. Listen and learn how giving yourself sexual space will create a mirror into empowering yourself and your life.