Why You Should Follow a System for Success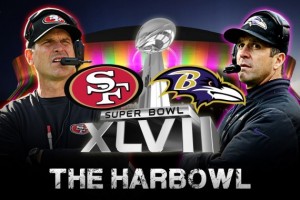 For those of you that just woke up from a two-week coma.
For those of you just beamed down into the world from outer space.
For those of you whom are totally unaware, let me tell you:
For the first time ever in Super Bowl history, we have brother vs. brother.
What an amazing thing.
Think about it.
I remember when I was growing up, my brother and I used to play stuffed animal football.
He'd be on one side of the room, I'd be on the other side of the room. I'd take the stuffed animals, I'd say hike, and I'd make Lassie the stuffed animal run through Smokey the Bear and Smokey the Bear would miss the tackle and Lassie would run for a touchdown.
Lassie would be carried off the field. I would win, my brother would experience the agony of defeat. That was our version of the Super Bowl.
When we were older, my brother and I used to go out in the backyard and play football against one another.
We play knee football in the basement after dinner. I'd be on my knees, he'd be standing up because we had a seven year age difference between us.
By the end of the night, I'd usually win. I'd allow my brother to come really, really close and then of course with one minute to go, I'd score the winning touchdown and throw my brother into the experience of defeat, once again.
That was our version of the Super Bowl.
As we became adults, my brother and I actually got to play each other in a fantasy football Super Bowl.
That whole week before the Super Bowl, there was tons of trash talking.
We kept talking throughout the whole week.
He had a stronger team that year and I didn't expect to win.
I just didn't feel like my match-ups were good and I wasn't going to win.
Sure enough, my brother won the Super Bowl that year by beating me.
It has always felt amazing to be able to compete with my brother, whether it was in stuffed animal football, or basement league football, or even the fantasy version.
So I can only imagine what it would be like to be Jim and John Harbaugh right now.
I imagine what their father must think right now.
There are only 32 NFL coaches in the league and only two of them are from the same family…and those same two will be playing against each other in the Super Bowl next week.
That's amazing. What an accomplishment.
Let's go even deeper into how this all happened.
John Harbaugh was hired as the Ravens head coach five seasons ago.
He was competing with Family Guy's Rex Ryan for the position. The Ravens made the right decision to hire John Harbaugh, and for the last five years, they've been in the playoffs every single year.
The Jets hired Rex Ryan the following year. He inherited a team that was good enough to make it to the playoffs two years in a row, and then he went back to being the buffoon from Family Guy that he is, and they've sucked ever since.
John Harbaugh: Five seasons, five playoffs appearances.
Last year, he made it to the championship game and they lost.
The only reason why they lost is because Lee Evans dropped a pass that would have been the game-winning touchdown.
So then Billy Cundiff came in and tried to kick a 23 or 24-yard field goal…he missed it and the Patriots went on to the Super Bowl.
After the game on Sunday, Jim Nance interviewed Ray Lewis—one of the greatest motivators of all time—and Ray told him:
"After the game last year, I told the guys we'll be back. We'll be back, because we belong here."
And you felt him as he said it; you felt his passion; you felt what it was all about.
John Harbaugh, what a great coach: they came from behind in the second half and then destroyed the Patriots.
And his brother, Jim, made one of the riskiest moves in the history of the NFL.
The 49ers starting quarterback, Alex Smith, went out with a concussion in week 10. He replaced him with a second year player, Colin Kaepernick, and left him in as the starter even when Alex became healthy again.
At the time, Alex Smith had a 70% completion percentage—best in the league. Last year, he took the same team to the NFC championship game, which they lost to the Giants. So you can see how risky the move was.
But Jim Harbaugh is one of the cockiest men you'll ever meet. He truly believes in himself in every way, shape, and form. He was a Stanford coach, took Stanford to heights that no one ever thought Stanford could go. He was an arrogant quarterback when he played. Not great, but definitely not bad.
He just had that energy about him. You just knew he'd be a successful coach one day in the league.
So he stuck with Kaepernick. And what happened?
Last week in the NFC Championship game, the 49ers were down 17–nothing to the Falcons, and they rallied back to win the game in the final minutes.
So what do the Harbaugh brothers have that no one else has?
I'll tell you what it is: It's determination; it's confidence; it's perseverance; it's the unbending belief in themselves.
And that's what's missing in most people's lives.
Most people don't believe in a system. They're handed a system and they don't trust it.
The system could be a system at work and they just don't trust it, so they try to create other ways to be successful, and they never seem to be successful.
A lot of people will work for somebody who they emulate, who they want to be their mentor. But yet they don't follow the system that the person put in place. They tend to do their own thing, and they think their own thing is right.
And they find themselves broke, penniless, and just not really feeling good about themselves, but they're just failing to stick to the system.
And a lot of you guys reading this right now, you get handed a system from somebody like myself or another dating coach, and we'll tell you the exact system to use to become successful with women.
And what do you do? You try the system for a day or two and then you quit and you say it won't work for me.
You make up all your excuses. You don't believe in the system. You think the system has flaws to it because you get into your head. You start thinking and out-think the system.
But in reality, the system is actually flawless. Because when a system is proven over time, when a system has worked for many people, it's not the system that's failed, it's you that failed.
Jim and John Harbaugh brought a system to the Ravens and the 49ers, and that system worked because the players bought into that system. The players believed in that system, and the players listened to their coaches and didn't deviate.
A lot of guys that I see posting on the blog, and a lot of guys that e-mail me, don't buy into the system. Sometimes I wonder why they're even reading and following me in the first place.
Here's the deal: I've got an amazing system that teaches you how to meet women. But if you don't follow that system and you look for flaws in the system and you don't trust the system, of course it's not going to work.
52 players from each team are following the system. That's 104 players that have bought into those systems. Both of those systems have taken the two teams to the Super Bowl—a place that every single football player wants to be but only 104 players each year get to taste.
Would you like to get into the Super Bowl of Women?
Would you like to be able to meet women every single day and feel like every single time you have intense, beautiful, incredible sex with a woman you've won the Super Bowl?
How'd you like to see a woman laying there in bed, sweating, full of passion, full of orgasmic energy for you? And how would you like her to be able to release all of that energy on you? You can do that by following the system.
Life is a system.
The 49ers and the Ravens came to training camp at the end of July and followed the system, day in and day out, game in and game out, every single week they followed a system and now look, eight months later they're now in the Super Bowl.
Would you love to follow a system and know that if you follow this system, by the end of August, you'd be participating in your own, personal Super Bowl.
This is what life is all about: choose a system, whether it's mine or somebody else's and follow it every single day.
Stop trying to recreate the wheel because successful people understand what a system is all about.
I'm tired of people that don't want to follow a system that works and that puts doubt into it. The reason why there's doubt into it is because you have lazy habits, old lazy habits that will not quit and you allow those lazy habits to rule your life.
Not one 49er or Raven, has lazy habits and look at where they are now.
I'm sure a lot of the 49ers thought Jim Harbaugh was crazy when he benched Smith for a quarterback who was unproven. But they trusted him. They trusted that he had this system in place and now they're in the Super Bowl.
It's time that you followed a system and stuck with it. It's time you listen to your mentor or coach or whoever you get your guidance from. It's time you dropped your ego and allowed other people to guide you and lead you in a way that's needed.
A coach is only as good as his students and pupils underneath him.
And you know what, when someone doesn't follow the system, just like in the NFL, you get cut. And when you get cut, you get cut because you didn't follow the system that was in place for you to succeed.
How many of you want to make the cut, how many of you want to join me in this revolution this year to be in the Super Bowl of Women.
Let's go—it's there for the taking.