Are You A Pussy Or A Child?
Yesterday when I arrived at the security line at LAX, it looked like the opening of a Harry Potter movie. I was thinking to myself, "Why did I fly United again?!" Then I remembered, "Oh yeah . . . it was the only direct flight."
So because our flight time was getting close, we of course had to be pulled from the line to go through security (along with some others whose flights were also coming up soon). We were on the 11:45 flight.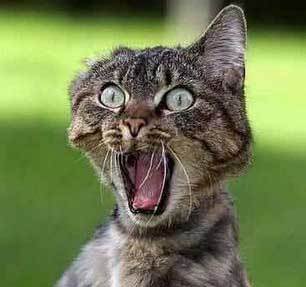 Of course one woman whose flight was at 11:34, barreled past me breaking Sonja and I up. This other woman says, "Wait! I'm on the 11:24 flight!" and wanted to go ahead of the 11:34 woman, but the 11:34 woman wouldn't let her go ahead even though the other woman's flight was before hers.
Did you ever meet someone you just want to kick and shake? That woman was radiating negative energy. I'm sure her purse was filled with Tums, Mylanta, pain medication . . . and maybe some Xanax. She might have even been an emergency Valium woman like my mother.
So I made the flight here to New Orleans, and now I have a job for all of you this weekend. You're probably thinking, "Wait, I read yesterday's blog about the job you gave us to reconnect with old friends. You have TWO jobs for us this weekend?" For any of you who need a refresher on yesterday's blog, CLICK HERE.
For those of you who are regular readers, you know I have limited experience with children. I've even called them "little aliens" from time to time, even though they're really just little people.
I learned some things watching little Ashlyn here. It's amazing how uninhibited a 2½ year old's body language and emotions are. You know exactly when a kid wants to talk to you, play with you, communicate something to you . . . and you know when they think you're a creep.
They are either naturally approachable or naturally unapproachable — like pitbulls. They are based on natural body language intuition, and are without fears and doubts.
So your job, Ethan Hunt . . . oh, wait this isn't Mission: Impossible . . . is to go find some little kids this weekend and watch them. Go to a Chuck E. Cheese or a park and just enjoy yourself. Don't go dressed in trenchcoat looking like a creep, and just enjoy the day.
I want you to go back to your more innocent days when you were more open about meeting people. The way to do that is to be open about body language, dynamics and from where the smile comes.
For those of you who think you're above this, you don't get the point of this. For those of you who think this is silly, you can be like Kristen's cats and just hide in your room. People can be so much like cats — you take a cat out of it's environment to a new place, and it freaks out for weeks and hides in corners in a room.
What would you rather be like? Think about it. Would you rather look at the world and the beauty that it is? Or, would you rather be like Kristen's cats, Captain Jack and Hercules, scared of the living room? Would you rather be screaming with enjoyment, or screaming with fear?
Here's a quote I just heard that fits perfectly into today's blog and is a good ending to it: "You know if you hide from your fears, they don't go away.  They get bigger and they get worse.  The only way to get rid of them is to face them." 
Have an amazing Saturday!